Jack will be starting his final year of elementary school in a few weeks. The plan (sigh. for now. sigh) is for him to be back in a school setting. He is looking forward to seeing his friends on a daily basis!
Last week, our DEM (Direction de l'enseignement à la maison) representative called me to let me know that our final report was accepted – and with flying colours 🙂 (insert shameless pat on the back here. Homeschooling, changing jobs, Bill 96, Bill 21 (still), pandemic (still) … what a year!)
I do my reports differently. I am both his homeschool provider and his evaluating teacher so I combine both reports in one. I do so using a google slideshow because it helps me to make sense of it all when I organize it that way.
A note on how I homeschool and evaluate
Progression of Learning (POL)
I never refer to the progression of learning. Never.
The progression of learning is a document that was created by teachers to help them manage a competency-based program that runs over a cycle of 2 years. The majority of teachers share their students with other teachers and don't keep the same students for the full 2 years. And they are working with multiple groups of anywhere from 15 – 30+ students at a time. For example – a French teacher in an elementary school could have 30 – 100+ students a year, depending on the school. At high school, that number can grow significantly. And students change schools over the course of their schooling as well. So the POL was created to help manage content knowledge within that context not within a homeschooling context.
As teaching parents of our own children, we don't have the same issues, It is NOT the curriculum. It is not the Quebec Education Program (QEP).
End of Cycle Outcomes
I go straight to the program and focus on the end of cycle outcomes that are included with each competency in each program of study. So my Learning Project, Teacher Evaluation, and Mid/Final Reports are all organized along the end of cycle outcomes for each competency. When I focus on those, I find the QEP is actually very homeschooling friendly. It's really about developing competency and not about lists of things to learn and memorize.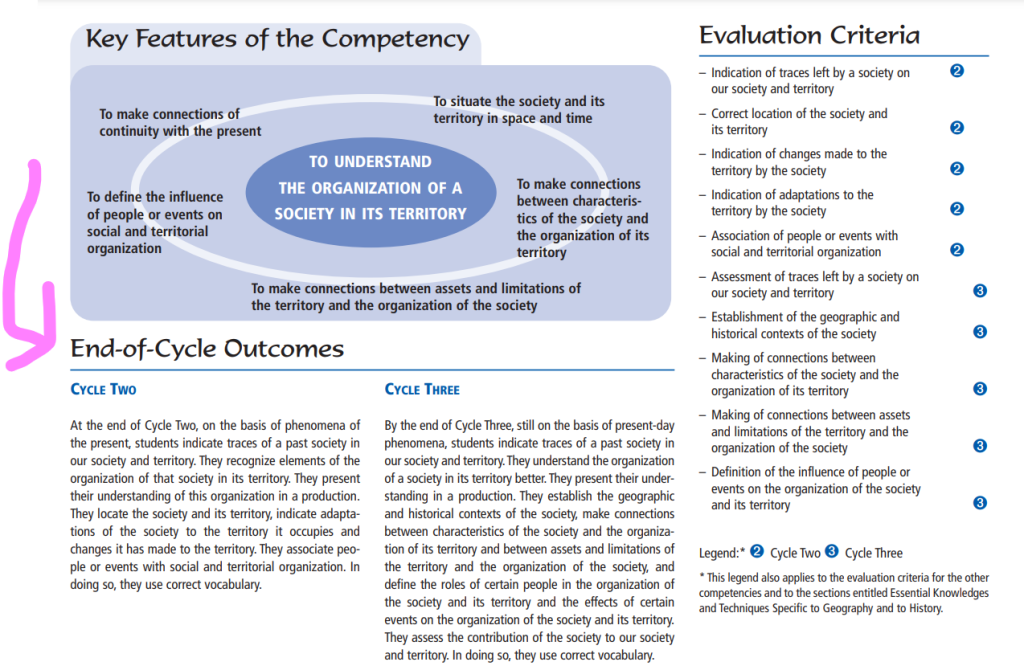 What does it look like during the learning process?
Aha! This is where the homeschooling magic happens. Jack and I get to know the competencies and end of cycle outcomes so whatever he is working on, we are able to figure out what competencies he is developing. We start with what he is doing and then map it to the competencies in order to "prove" his learning to our DEM rep. The competencies and end of cycle outcomes are government technicalities. They are not the most important part of his learning, so they come last.
Learning happens all the time no matter what.
Paperwork
Here is the accepted report for 2021-2022. (you can see it larger by running the presentation in Google Drive here or by selecting full screen via the three dots under the presentation below.)
And here are some samples of work we showed our DEM rep at our yearly monitoring meeting where you can see how Jack's personal interests (ex: coding, 3D design, history, mapping, Minecraft) were used to demonstrate competency development.
(You can see it larger by viewing it as a presentation in Google Slides here or by selecting full screen via the three dots under the presentation below.)
I truly hope that Jack can be in school with his friends this coming year. But you never know, we may be back!